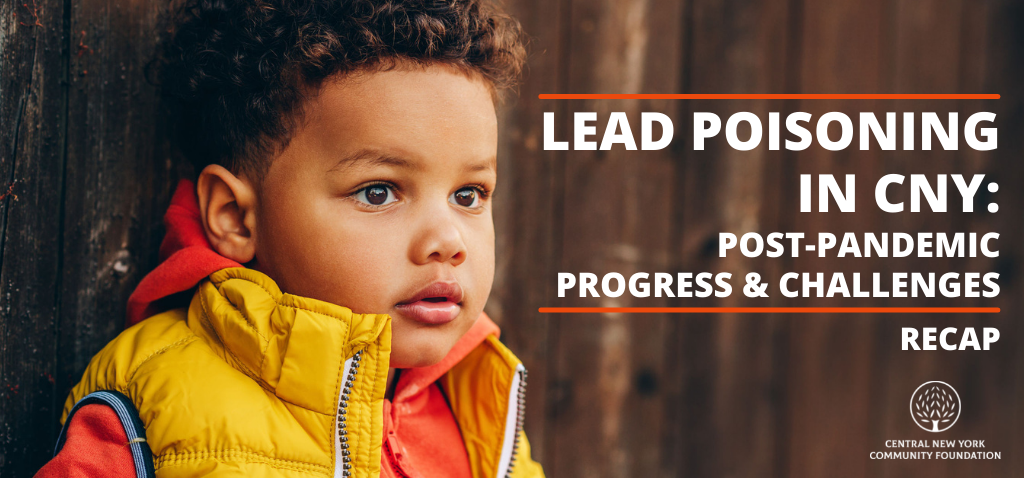 On January 26th, 2022, the Central New York Community Foundation hosted a community discussion concerning the rate of childhood lead poisoning in the region. Chris Bolt, public affairs director at WAER, moderated the discussion and has been covering issues around Syracuse lead poisoning since the 1990s. Panelists included community leaders, health professionals and activists, who engaged in constructive dialogue to find solutions to an issue that has affected the lives of hundreds over the past 30 years.
Lead poisoning is an issue long thought to have been eradicated in the 1970s when lead paint was officially banned in the United States. However, when topcoats of new paint slowly erode over time, it can reveal the original, toxic paint on the walls underneath. When inhaled, it can lead to severe, irreversible side effects in children. When poisoned, children can develop headaches, seizures, and permanent cognitive disabilities. Dr. Frank Ridzi, vice president of community investment at the Community Foundation, relayed that lead poisoning is affecting around 4% of the county's children.
Syracuse in particular is home to an older housing stock – houses built long before the lead paint ban went into effect. Thus, residents and their children remain at a higher risk of lead exposure. Around 9% of Syracuse city children tested positive for elevated levels of lead in their blood in 2020. Panelist Oceanna Fair, who works as the South Branch Leader for Families for Lead Freedom Now, cited the lack of education that results in childhood lead poisoning – if families are not aware of the risks, lead poisoning remains an almost incomprehensible possibility.
Dr. Indu Gupta, Onondaga County Health Commissioner, acknowledged the shortcomings in the effort to curb lead poisoning but explained that the overall case numbers were decreasing. She highlighted the need to match children with pediatricians, who are required by law to test children for lead poisoning. Ultimately she hopes to receive new funds from the state, in order to provide better overall testing for families in the city.
Bonfrida Kakwaya and Darlene Medley, two mothers who also work with Families for Lead Freedom Now, expressed their frustration and heartache. Both mothers have young children who have been poisoned by lead and are tired of seeing more children being poisoned every year. "I'm sick and tired of being sick and tired," Medley said.
Syracuse City Deputy Mayor Sharon Owens and Commissioner Michael Collins assured attendees that they would continue to try and find solutions to the lead poisoning issue in the city. Peter Dunn, CEO of the Community Foundation, reiterated the Community Foundation's commitment to invest $2 million over five years to making residences lead-safe, with a focus on the Syracuse census tracts that house children with the highest blood lead levels. "We want our young people to be able to arrive in the classroom able and ready to learn and on a path to reach their fullest potential," he said.
Watch the full event video below: