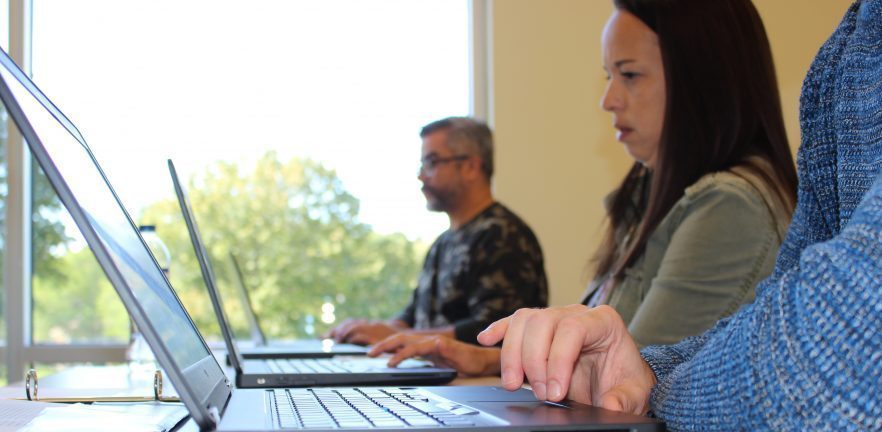 Enhancements to a community assessment tool, designed by the Central New York Community Foundation, are making it easier for area nonprofits to analyze their programming in real-time, 'match' with partner organizations, and evaluate the greatest concerns of those they serve.
Community assessment is a major focus of the Community Foundation's Performance Management Learning Community (PMLC), now entering its eighth year. PMLC uses grant dollars and peer learning to help nonprofits measure their effectiveness.
PEACE, Inc., a federally-designated Community Action Agency that works to help people become more self-sufficient, joined PMLC last year to continue becoming data-structured from within. The organization's goal was to help staff effectively track and measure the effectiveness of its food pantries, family resource centers, and programming for youth and seniors.
"The first objective within our organization's strategic plan is to develop a data-driven culture," said Todd Goehle, development coordinator at PEACE, Inc. "So we identified emerging leaders across our organization who could take what they've learned from PMLC and make it a part of our daily philosophy."
After a year in PMLC, PEACE, Inc. consolidated database systems, which now allows staff members to collaborate across teams and with external organizations. In addition, the agency benefited greatly from the findings of PMLC's community needs assessment, a measurement of which life needs—such as affordable long-term housing, addiction counseling, lead poisoning support, job readiness and economic independence—are not being adequately met for those living in poverty. PMLC participants can study responses to the needs assessment by neighborhood or census tract to complete pre-and post-program evaluation.
"When we evaluated the data that we and our PMLC partners gathered, it became clear to us that we needed to double down on our food pantries," said Goehle. "We found that there is a real need for food and personal items within some neighborhoods of the city, and we need to increase our efforts to get funding that will allow us to increase our supplies."
This fall, the Community Foundation released a whitepaper that examined the impact that can be made if social programs addressed the nuances within the areas where they work, as PEACE is doing.
Recently, the Community Foundation introduced new online enhancements to the assessment tool, which include access to interactive, real-time results. This allows nonprofits to take their analyses one step further. Nicknamed 'data dating,' organizations can quickly identify other participating organizations they 'match' with for collaboration, such as to fulfill a client need that they do not offer. The tool also makes information about program measurement accessible by all members within an organization, from front-line staff to executive directors, without the need for extensive training.
Goehle reports that he hopes to use the new interactive features to partner with organizations that have clients reporting needs that PEACE, Inc. can help provide.
"The data that we're accumulating doesn't necessarily reflect the community at large," he said. "This tool gives us opportunities, especially with live mapping, to identify locations where interventions can be made."
This year, seven organizations received a total of $118,756 in grants to join the next PMLC class: ACR Health ($20,000); Everson Museum ($15,000); Hiscock Legal Aid Society ($20,000); Mercy Works ($20,000); Madison County Health Department ($15,200); Northside Learning Center ($14,956); and Planned Parenthood of Central and Western New York ($13,600).
The Community Foundation awards PMLC grants toward data measuring efforts, which include such things as database management and statistical analysis, to help nonprofits track their efforts and look for trends. This in turn assists the organizations in identifying what is working and what's not, leading to the development of more effective programming and funding competitiveness. Applicants agreed to participate in a year-long learning community in order to qualify for a grant.
Another six organizations are joining PMLC Prep and PMLC Pro groups to learn how to collect community assessment responses and use the new interactive tool in new and innovative ways with $5,000 grants each: Huntington Family Center; On Point for College; PEACE, Inc.; Refugee & Immigrant Self-Empowerment; Southwest Community Center; Westcott Community Center; and Women's Opportunity Center.
For organizations like PEACE, Inc., the PMLC collaboration is helping form new connections that will benefit the community as a whole.
"Sometimes in Syracuse, organizations tend to work in silos and there are not always a lot of opportunities to meet and exchange ideas," Goehle said. "This provides us with an opportunity to all get to the table and examine through data how we can work through problems collectively."