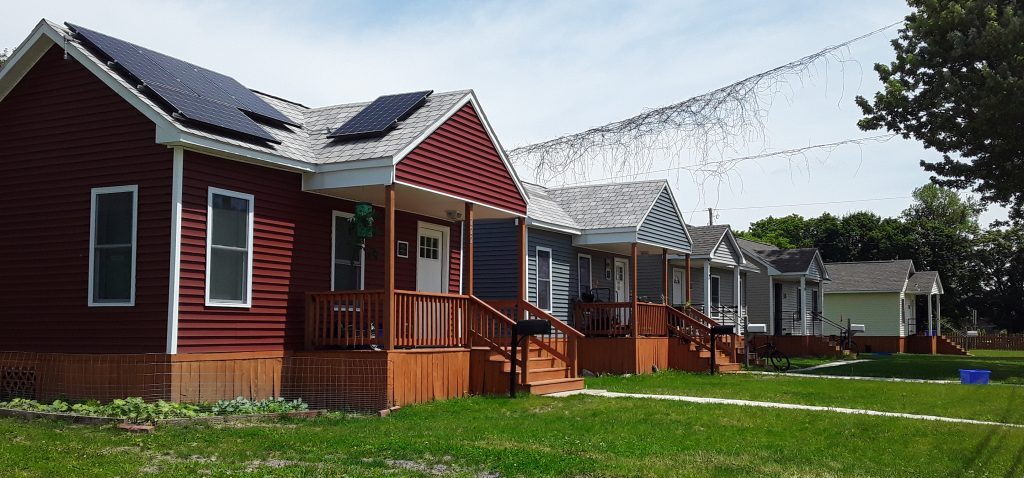 Guest Article: Megan Stuart, Director of Housing & Homeless Coalition, United Way of Central New York
Photo Credit: A Tiny Home for Good
The Housing & Homeless Coalition of Central New York (HHC) is a network of organizations committed to ending homelessness and housing vulnerability in Central New York. Each year, the HHC conducts its Point in Time count, a census of all people experiencing homelessness in our three-county region which includes Onondaga, Cayuga, and Oswego counties. This effort includes data collected in the Homeless Management Information System database and a full canvas of our geographic region. Over 100 volunteers go out on one night in January to ensure that we are getting the most accurate and complete count of people experiencing homelessness. Our volunteers also canvas soup kitchens and day centers asking where people are staying.
This count has demonstrated that our community was making progress in ending homelessness. Prior to the pandemic, our community was seeing decreases in homelessness year over year, resulting in a 25% decrease from 2015 to 2020.[1]
But now, homelessness is on the rise. From the count in 2022 to the count in 2023, there has been a 30% increase in overall homelessness, totaling over 800 people staying in emergency shelters or places not meant for human habitation on a given night. This number is higher than any count we've had since 2015.
These increases are particularly affecting families, as the three-county region has had a 41% increase in families with minor children experiencing homelessness, with a majority of these families never facing homelessness in the past. 75% of households who entered homelessness last year, did so for the first time. Homelessness has adverse effects on health outcomes, educational outcomes for children, and even affects life expectancy, at an average of 20 years less than people who are housed.[2]
The report also identified the following trends in homelessness:
The number of people experiencing unsheltered homelessness increased by 190% (from 10 people in 2022 to 29 people in 2023)
39% of children who experience homelessness are under the age of 5
Unaccompanied youth (age 12 to 24) increased 32%, from 42 to 62 youth in emergency shelter.
Overall, the Point in Time count demonstrated that people are at higher risk of homelessness than any other time in recent history. Though the community is seeing drastic increases in people being unhoused, the good news is we know what works- re-housing people as quickly as possible into quality, affordable housing, and stabilizing families with wrap around services. Each year, programs providing subsidies and case management services see over a 95% success rate in housing retention.[3] There is now a demonstrated need for the expansion of essential programs to assist in creating avenues to permanent housing. Now more than ever, it is critical to the health of the community that our neighbors have a safe place to live as it is the key to ending homelessness.
To read the entire report, visit the HHC's website at hhccny.org
[1] All data is taken from the HHC's Point in Time Counts unless otherwise specified.
[2] https://www.usich.gov/news/remembering-those-we-have-lost-and-the-work-that-remains/
[3] HHC's System Performance Measures, 2022, hhccny.org