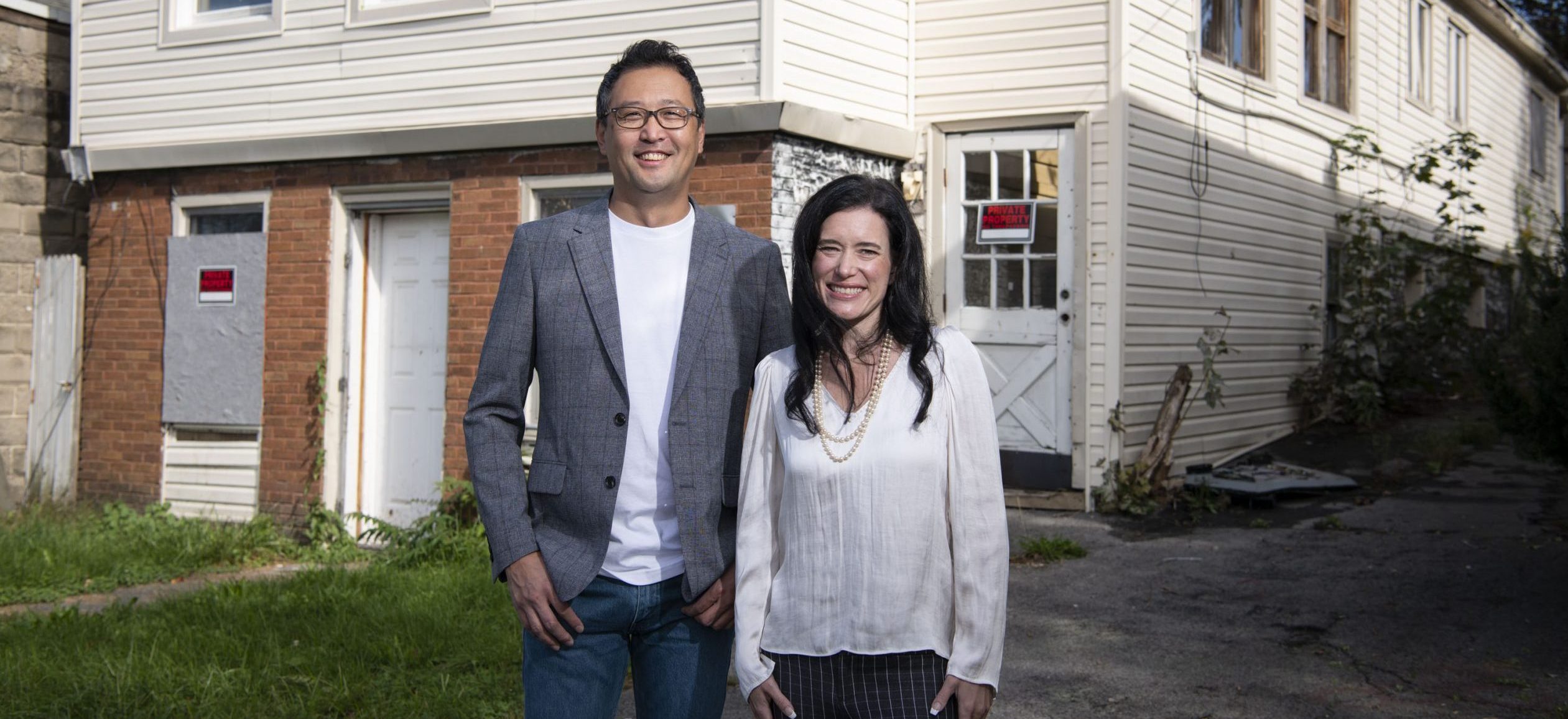 Jung Hoon Ryu moved to Syracuse from South Korea in 2005. During his mission work with the Boaz Project at his church, Korean Church of Syracuse, he encountered abandoned, broken and neglected housing on the Northside.
"I could see the broken hearts of the residents living in those conditions," said Jung. "I realized then that God led me to Syracuse to help make change for them."
Using his construction and architecture background, Jung established Building the Bridge USA to rebuild broken homes and communities and provide construction job opportunities for other New Americans. Through his involvement with Hopeprint, he was hired as the general contractor for one of its first lead-safe renovation projects.
On a warm August Day, Nicole Watts, CEO and founder of Hopeprint Inc., toured us around the Northside neighborhood. She loves the community of neighbors, the sound of the Assumption Church bells that play every hour and the kids playing in their yards. And she's not the only one. The New Americans that settle in this neighborhood and find community through Hopeprint's programs do, too.
"Folks come to us, and we build together," Watts said. "We help them on their trajectory to thriving, and after a few years, many are ready to be homeowners, but they aren't staying here."
For more than a decade, Hopeprint has served the local resettled New American community through family empowerment programs, community navigation supports, and neighborhood development.
After a series of community dialogues, Hopeprint recently launched its micro-neighborhood reinvestment strategy, which seeks to address the area's lack of quality, affordable housing. The strategy is multi-stepped with a focus on advocating for equitable transit options, right-sized housing, and business development. The chosen micro-neighborhood is a stretch of 30 blocks inside a boundary of four Northside streets (Park St., E. Division St., North Salina, and Kirkpatrick).
"We want to invest in these 30 blocks, so that residents can prosper in place," Watts said. "So they don't have to move away, and leave the community they've built here."
Hopeprint approached Greater Syracuse Land Bank to purchase vacant homes and properties in the area, and hopes to start renovations on properties this fall. With support from the Community Foundation's LeadSafeCNY initiative, Hopeprint will remodel the houses to be lead-safe.
According to the Onondaga County Health Department, more than 10 percent of Syracuse children tested in 2019 were shown to have elevated lead levels. On the Northside, such as in census tract 23, that number jumps to 16 percent – or one in every six kids. Our LeadSafeCNY initiative is committed to data-driven investments to eradicate childhood lead poisoning that disproportionately affects communities of color in the county.
"Our focus is on the people that call this place home," Watts said. "This initiative is an investment in housing, but ultimately it's an investment in people."
As we walked the streets on the Northside, Watts pointed out the vacant houses and empty lots that she's hoping to one day move families into. Some are full tear-downs, and others will take a lot of love and care, but it's easy to see her vision as she talks.
She sees the problems – the broken windows, the faltering foundations – but just as easily sees the businesses that might one day root the corner of DeMong Park, or the new parents moving into their first home on North Alvord.
"We want to make sure that there are viable options for our families who want to stay on the Northside, and that there's a quality home available to them," Watts said.
As a Northside property owner and budding developer himself, Jung shares Hopeprint's desire to see the Northside be a place where people can prosper in place.
"This is the first big step to reaching the light at the end of the tunnel and opening the door to the future for residents on the Northside," he said.